Choosing The Right Annular Cutter
Getting the right annular cutters for the job is essential, using an appropriate cutter will ensure the performance you need for a quality finish. Let's talk about how to choose the right annular cutter for the job:
How can I choose the right annular cutters?
Known by a variety of names, such as: broach cutters, rotabroach cutters, annular drill bits and more, these tools are an incredible asset to any workshop. Choosing the right annular cutter, often used as a twist drill alternative, comes down to a few different factors; first, it's essential to choose the right size cutter for the task at hand.
The diameter of the cutter must be large enough to cut through the target material you're working with, but not so large that it's difficult to properly and accurately manoeuvre. As well as this, you'll need to consider both the cutting depth of the tool and the material it will be used on, these are essential aspects of achieving optimal performance.
Different materials necessitate different types of cutters, so make sure to choose one that is specifically designed for the target material you're working with. Finally, consider the type of shank featured on the cutter, as this will help to determine which type of tool you can use it with.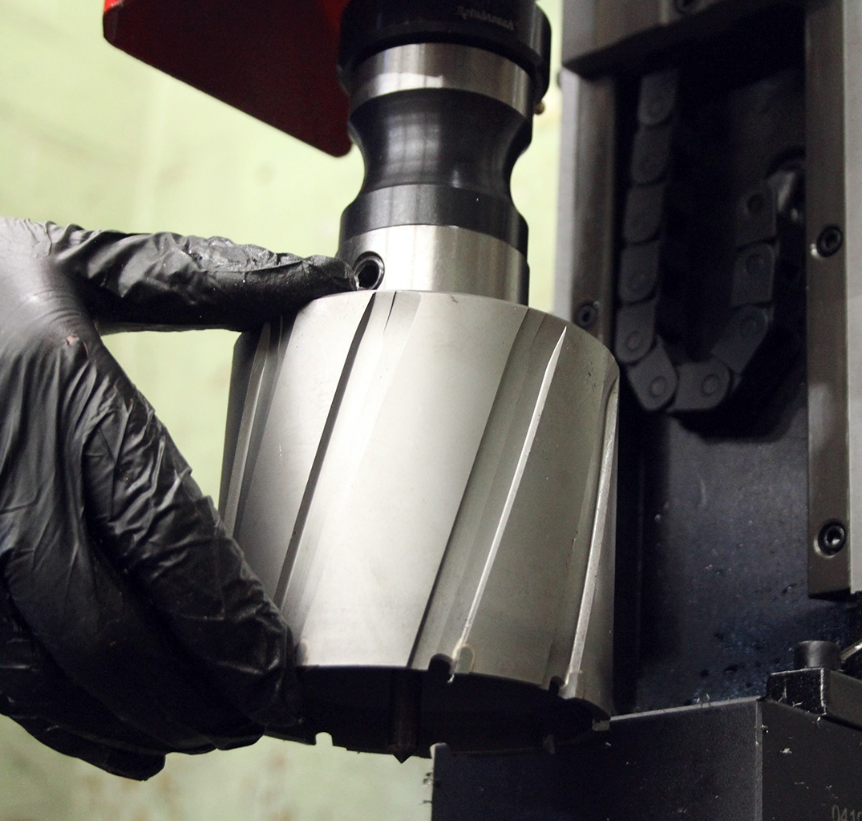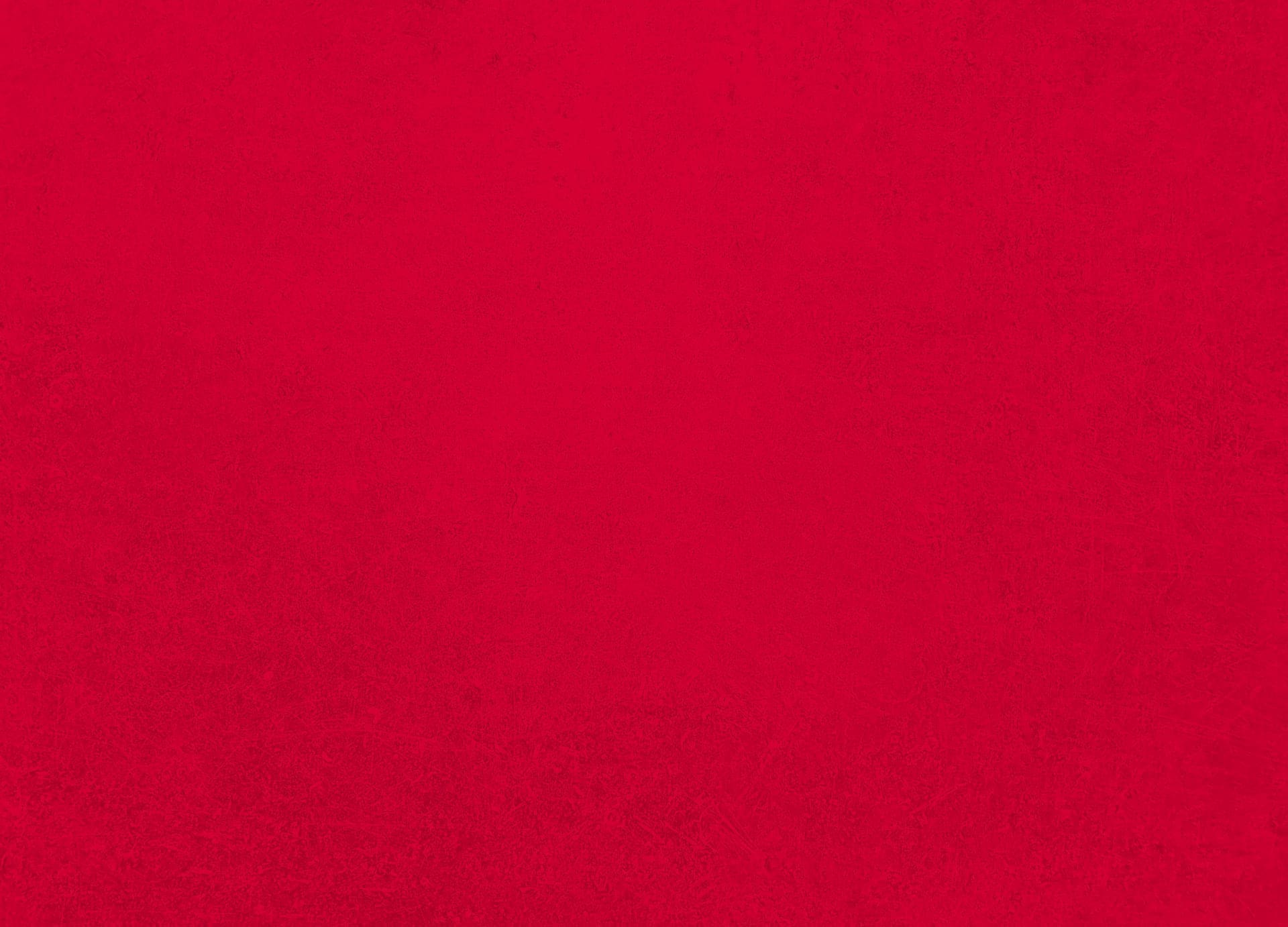 Let's break these factors down into more detail, starting with the different types of annular cutters we manufacture: 
M2AL Annular Cutters
Manufactured from heat-treated M2AL, these cutters are a fantastic cost-effective option designed to provide the signature Rotabroach performance at a cost-effective price. They are designed with our specialist geometry, unique to Rotabroach, which helps to provide their impressive performance.
Ideal for cutting through mild and structural steels, these cutters are a valuable asset to fabricators, construction businesses and manufacturers around the world.
Size Range: 11mm – 65mmø
Cutting Depth: 25mm & 50mm
Ideal For: Mild and Structural Steels 
Take a look at our range of M2AL cutters here.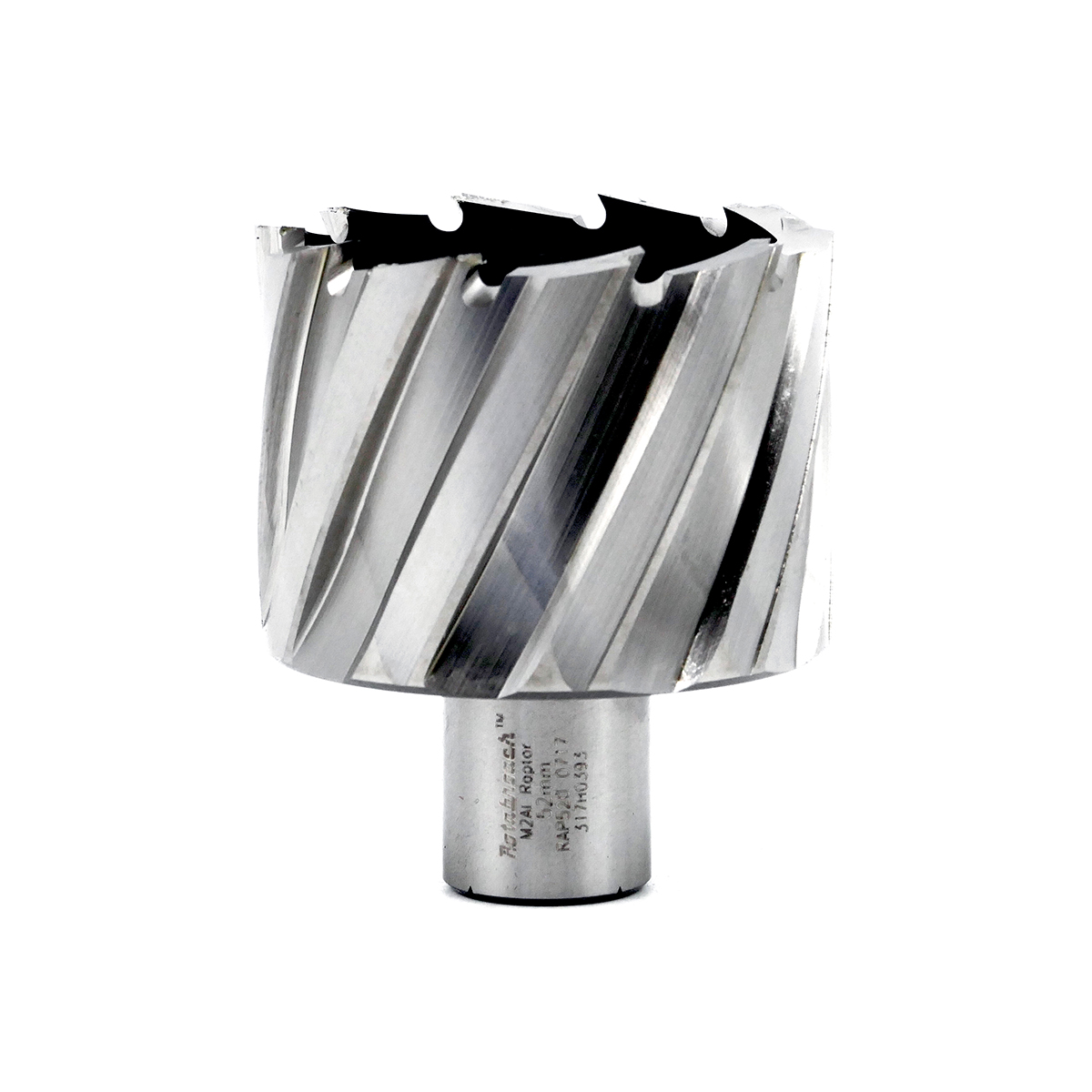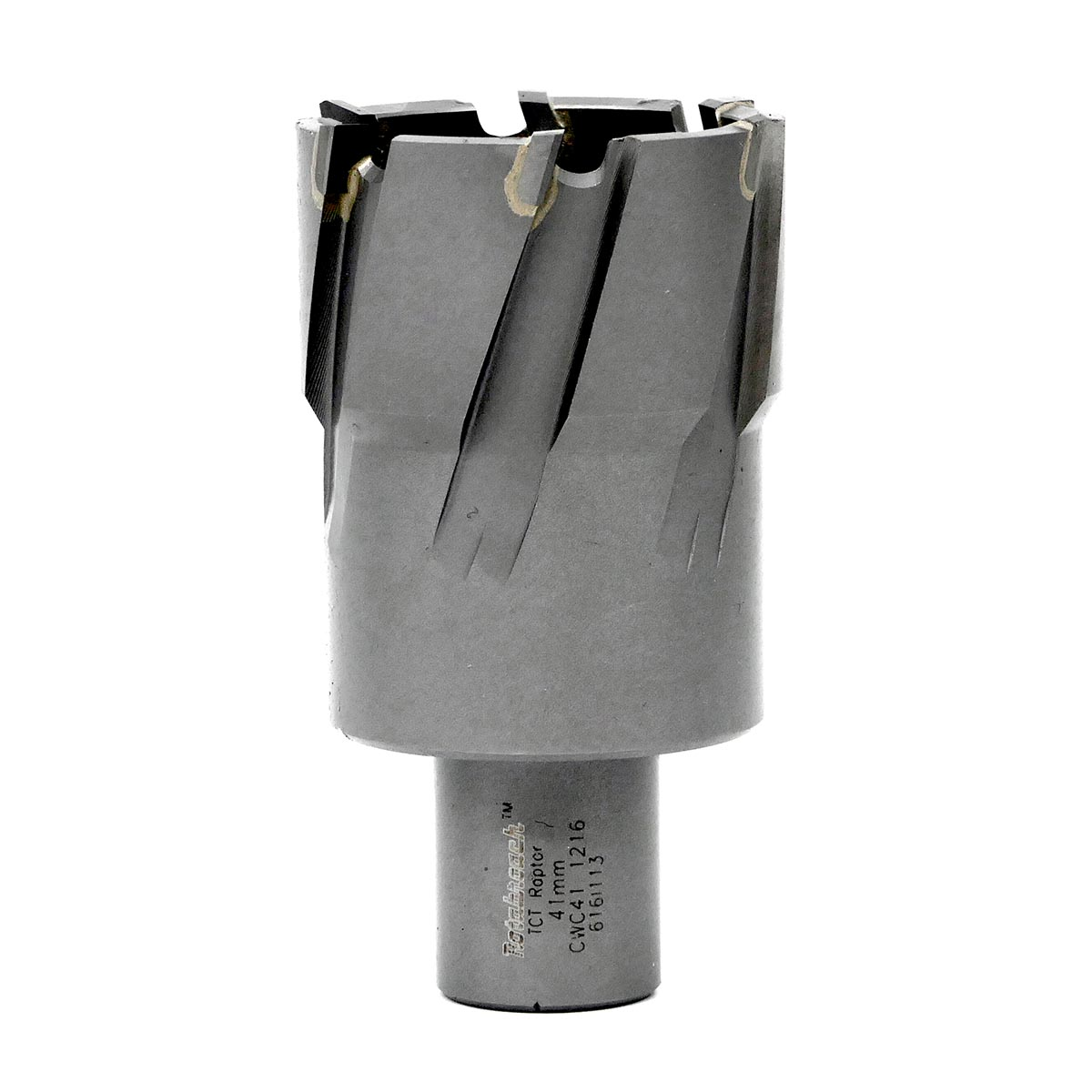 TCT Annular Cutters
Designed with Tungsten Carbide Tips (TCT), these powerful cutters deliver enhanced performance on harder materials, cutting through construction steel, stainless steel, rail track, and high strength steels without compromising on the equipment lifespan.
As well as this, our TCT cutters feature a specialist Rotabroach 3 tooth geometry, designed to provide an even tooth loading for a smooth and vibration-free cut.
Size Range: 12-100mm
Cutting Depth: 35mm, 50mm, 75mm & 100mm
Ideal For: Construction Steel, Stainless Steel, Rail Track and High Strength Steel
Take a look at our range of TCT cutters here.
CTCT Annular Cutters
Our Cermet Tungsten Carbide Tipped (CTCT) annular cutters are designed for performance against the hardest materials, including tough alloys, fine grain steel and cast iron. Tests done in collaboration with SSAB have shown the ability to drill Hardox wear plate up to 500 Brinell.
As well as this, they are produced with a 3-step alternate tooth geometry, designed to reduce heat generation during cutting, as well as a unique straight flute for optimal material removal.
Size Range: 18mm – 40mm
Cutting Depth: 25mm
Ideal For: Drilling Hardox, Inox, Inconel, Cast Iron, Fine Grain Steel and other tough alloys.
Take a look at our range of CTCT cutters here.
What does this tell us?
As with many other tools, annular cutters come in a variety of different materials, with varying functions and costs accordingly.
Getting the correct annular cutter for the task therefore relies on firstly considering the cost and potential return, if your business or workshop generally only drills lower-tensile steels and softer metals, HSS cutters will suffice, however if your projects use tough alloys or harder materials, TCT cutters are a valuable addition to the arsenal.
Now that we've considered choosing the right material cutter, let's cover some other common factors to consider when choosing an annular cutter:
Cutting depth
Annular cutters come in a range of different cutting depths, usually relative to their cutting diameter. Therefore, it is essential to understand not only the type of material being cut, but also it's depth. Check the manufacturer specifications, as well as the material you're looking to cut, to ensure that the cutter is suitable for the job.
The material being cut
We've covered different types of annular cutters, now we can think about different surfaces and their requirements. A wide range of annular cutters are available on the market, with Rotabroach manufacturing different types of cutter for different materials, uses and speciality functions, such as drilling rail track.
For example, our M2AL cutters are ideal for cutting through softer metals like aluminium and brass, whilst TCT (Tungsten Carbide Tipped) cutters are capable of cutting through harder metals such as stainless steel and cast iron. It's essential to choose the right cutter for the job, as using the wrong type of cutter will result in poor performance, a drastically reduced tool life and a poor finish on the target project.
Now, let's cover some further key information on annular cutters:
What tool should I use my annular cutters with?
Annular cutters are most often used with a magnetic drill (also known as magnetic drilling machines, core drills or mag drills). These drills work by using an arbor and mounting system holding the annular cutter in place, whilst the base magnet sticks to the target material. With a good, steady feed pressure, a magnetic drilling machine is the ideal tool to use with an annular cutter.
Magnetic drills come in a wide range of different forms, with cost-effective machines like the Commando 40, powerful premium options such as the Element 100 and low profile alternatives including the Element 50 Low Profile. These drills, used with an annular cutter and pilot pin, are fantastic at cutting through a range of metals, such as sheet metal, mild steel, structural steel and tougher surfaces, proving themselves to be a vital asset in workshops, construction sites and factories around the world.
What is tooth geometry?
Tooth geometry is a vital part of the annular cutter equation, refers to the shape, size, and arrangement of the cutting teeth on an annular cutter. The tooth geometry of a cutter will determine the performance of a cutter when cutting through different materials, as well as how smooth and accurate the cutting process will be
Different materials require different tooth geometries in order to be cut effectively, so it's important to choose the right cutter for the job. For example, some materials may require a cutter with sharp, pointed teeth, while others may require a cutter with more rounded teeth. In general, the tooth geometry of a cutter will be determined by the type and hardness of the material it is designed to cut, as cutters designed for different materials will not use the same tooth angles to drill holes.
Having covered the essential information on annular cutters, take a look at our range of Rotabroach cutters available below:
M2AL Raptor Cutters

Rotabroach M2AL Raptor cutters have a unique and exclusive geometry that you will only find on...

TCT Cutters

Rotabroach tungsten carbide tipped cutters are manufactured with super micro-grain carbide tips for...

Raptor CTCT Cutters

Rotabroach Raptor CTCT cutters are manufactured from high-quality tool steel, they have precision...