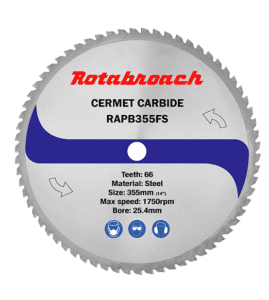 Saw Blades
Cermet blades produce a clean, cool cut with minimal vibration. Cermet tipped, they offer 20%...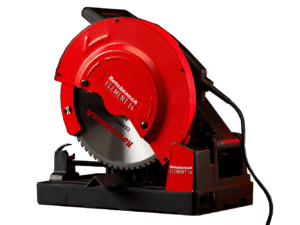 Element 14 Chop Saw
Rotabroach's Element 14 Chop Saw makes light work of cutting steel plate, square tube, angle...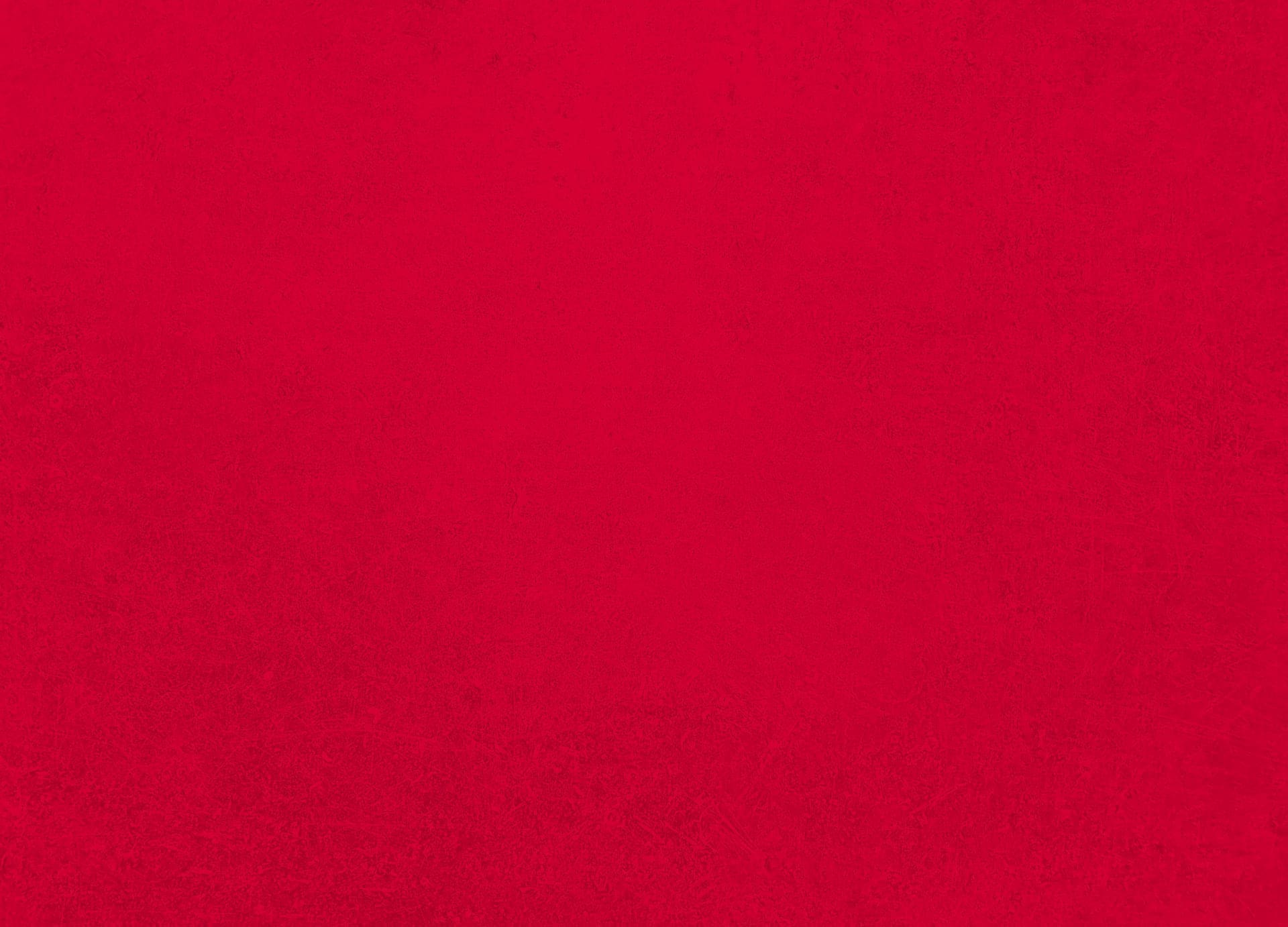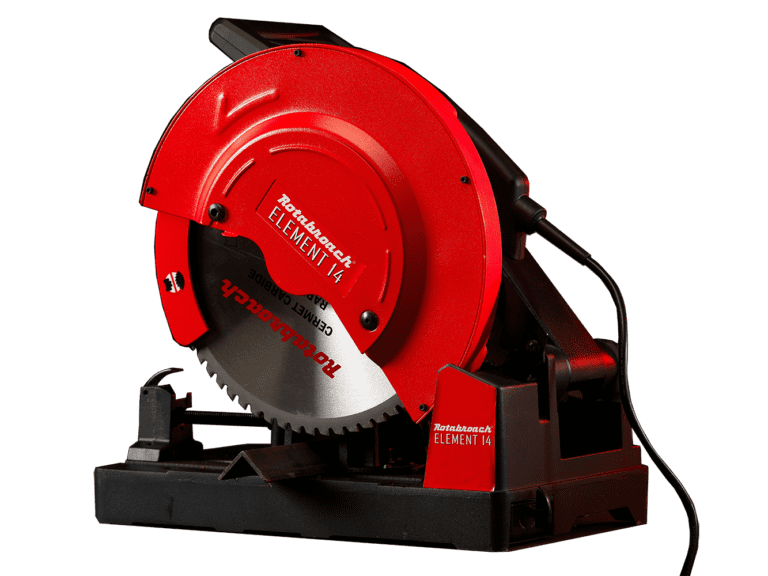 Featured Product
ELEMENT 14 CHOP SAW
Rotabroach's Element 14 Chop Saw makes light work of cutting steel plate, square tube, angle iron, pipe, tube and sheet metal.
Metal Is No Match For Our Chop Saws
ALWAYS ACCURATE, NEVER ABRASIVE
The Element 14 uses a durable cermet-tipped blade that slices through metal time and time again without compromising on strength. With a 40% better lifespan than a TCT blade alternative, this chop saw can cut metal pipes and sheets to 45 degrees without faltering, making it an unstoppable addition to any project. These complementary Raptor blades cut faster and last longer than abrasive discs, with a metal chop that is practically free from sparks, heat, or burrs – resulting in metal that is cool to the touch even immediately after it's been sawed. With its quick-release vice, users can efficiently get through huge workloads with little downtime, giving unparalleled value for time and money. We also have 4 blades available – Steel, Aluminium. Multi-Purpose and stainless steel – giving you the option to adapt their powerful Element 14 Chop Saw for any material or project.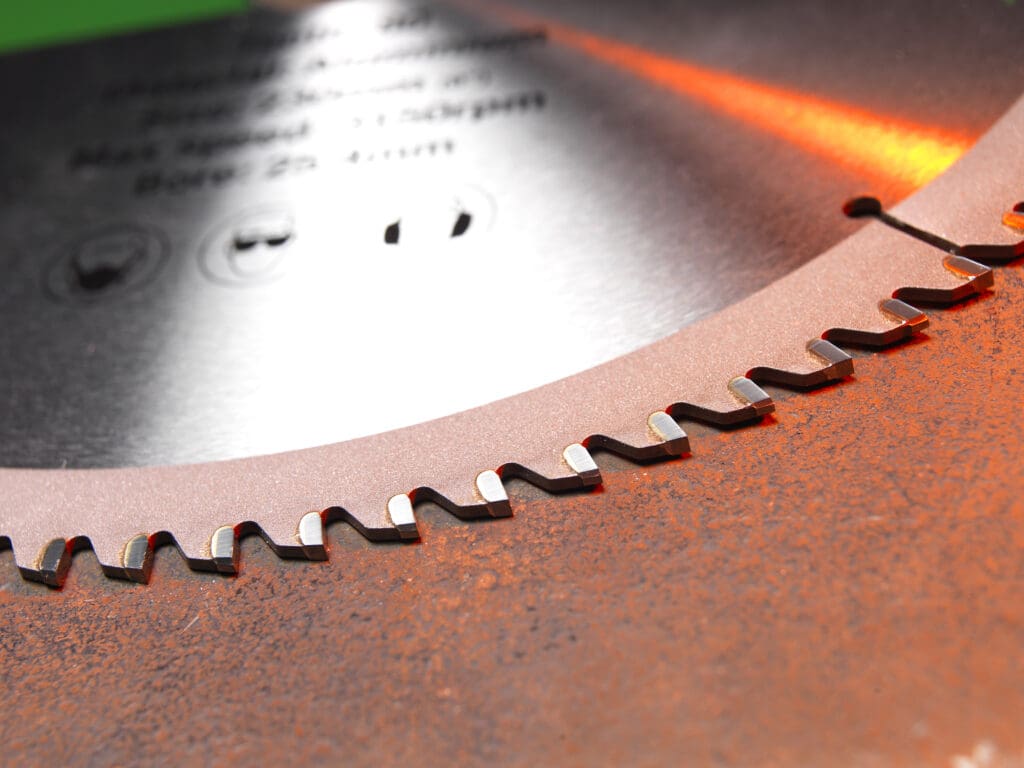 THE ELEMENT 14 CHOP SAW – BUILT TO LAST
Built to withstand the demands of the toughest trades, our Element range of leading magnetic drills and metal chop saws combines innovative design and high-quality products. Here at Rotabroach, we have plenty of experience manufacturing tools that have driven the industry over the past four decades. The Element range marks the next evolution of trade machinery, combining style, ergonomics, and high-precision engineering into an unstoppable force for workbenches everywhere.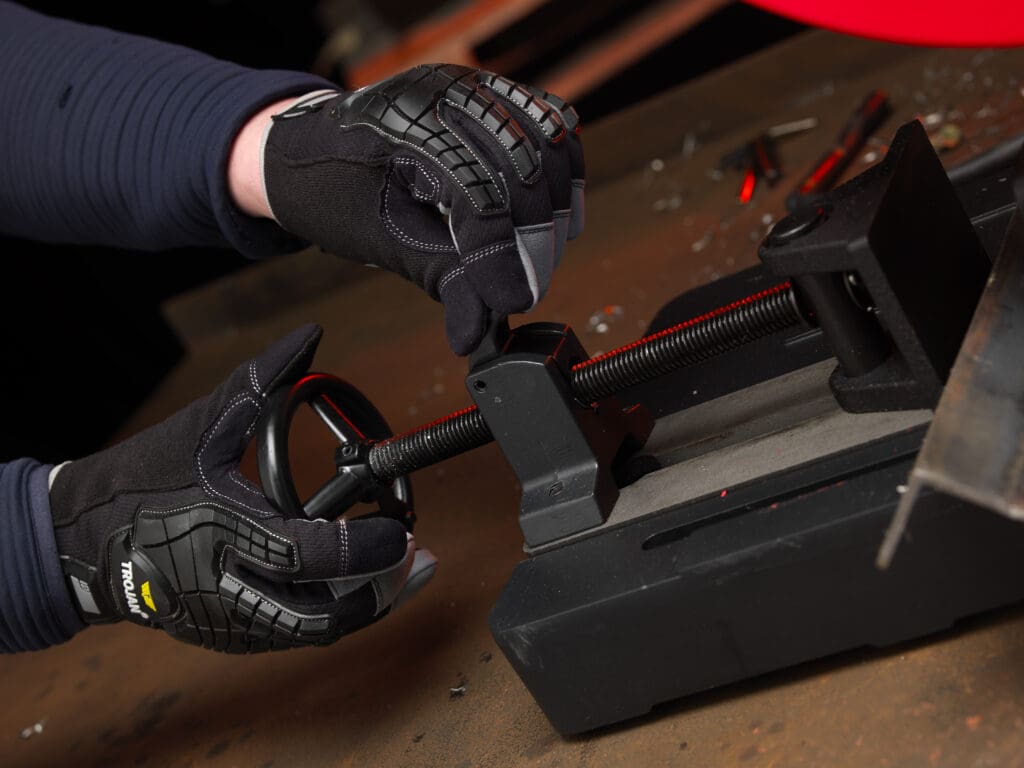 A POWERFUL AND SAFE CHOP SAW
We know that you need strong, dependable sawing solutions when tackling heavy-duty metals. With cool-cut technology, these circular saw blades produce a smooth cut on even square tubes, thanks to a sturdy vice and ergonomically designed controls. This makes it easy to insert a range of materials and start to saw, with an auto-retracting guard that works alongside the user for smooth, safe usage. There's no need to be concerned about visibility or the chance of dust inhalation. Metal chippings are kept in a quick-release chamber that captures dust and allows the user to quickly dispose of waste – without compromising on speed or efficiency. The Element 14 also comes with a safety chain for transportation purposes, making it a powerful addition to any workshop or on-site project.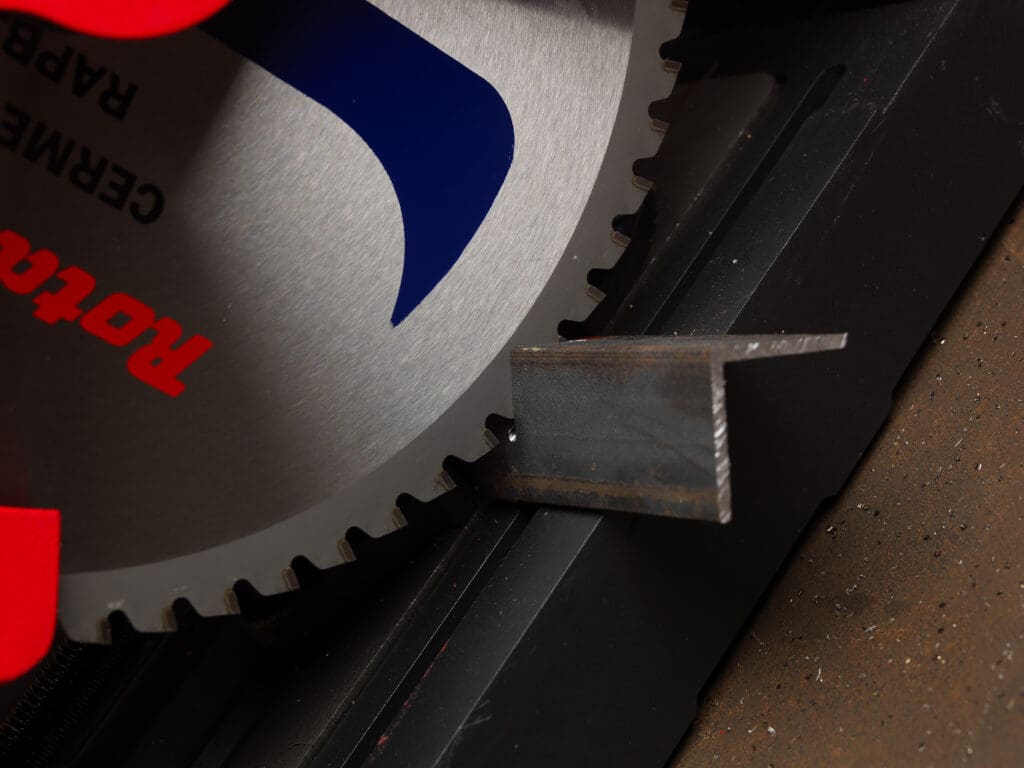 Best Chop Saws For Sale – Our Product Range
Our Rotabroach cutting metal saws support clients from a variety of industries, including construction,
steel fabrication and rail, as well as agriculture and renewable energy. Our chop saws have been devised and manufactured with the highest standards of safety in mind, and the best in material quality and operational use.
Our cutting metal saws include the Element 14. A superb range, we can talk you through their specific applications, benefits and which saw cutting metal is right for your project.
The Rotabroach Element 14 Chop Saw
Need to cut through steel sections, metal box sections or sheet metal? No problem. The Element 14 has got you covered with a faster, more accurate and safer approach to metal cutting than other metal saws in the market, which our customers can attest to. A great companion for angle iron and pipe tubes too, there's no stopping this precision tool. Spark-free and strong, its swivel base allows 45º cutting for all of your requirements.
Chop Saw Blades For Steel, Aluminium & More
If you've been using carbon-based blades, then you'll know the issues that accompany it. Burning through the material and producing a lot of heat, they can damage steel and iron, and wear the tool at a much faster rate. Not great when you need a reliable chop saw. That's why we offer cermet tipped blades that are non abrasive, producing a clean cool cut with minimal vibration. With triple chip design for added durability and up to 40% better life than TCT blades without cermet tips, you know that you're getting more value for money with our range of chop saw blades, and greater efficiency too.
14'' Aluminium Saw Blade:

Diameter: 14″ (355mm)
Teeth: 80T
Bore: 25.4mm (1″)
Application: Aluminium
Max Speed: 1750 rpm
14'' Steel Saw Blade:

Diameter: 14″ (355mm)
Teeth: 66T
Bore: 25.4mm (1″)
Application: Steel
Max Speed: 1750 rpm
14'' Stainless Steel Saw Blade:

Diameter: 14″ (355mm)
Teeth: 122T
Bore: 25.4mm (1″)
Application: Stainless Steel
Max Speed: 1750 rpm
14'' Multi-Purpose Saw Blade:

Diameter: 14″ (355mm)
Teeth: 36T
Bore: 25.4mm (1″)
Application: Multi-Purpose
Max Speed: 2500 rpm
Cermet Carbide Blades – Strength, Stamina & Always On The Go
If you're not convinced that our cermet tipped carbide blades are right for you, then we're up for that challenge. There are so many great features and benefits of TCT blades and when combined with our cermet tips, there really is no better option out there. In general, a TCT (tungsten carbide-tipped) blade is a re-sharpened circular saw blade that incorporates gear reduction and an electronic motor, allowing you to uphold consistent torque, while also reducing the blade's rotational speed. Some are coated in tungsten carbide, while ours feature cermet tips. Both allow quick metal cutting and prolonged life span, staying sharper for longer.
Our cermet tipped carbide blades can be used on various materials, including steel, aluminium, titanium, cobalt and nickel, as well as wood and iron. Applications are vast and far-reaching, and our customers use their chop saws for cutting sections, metal tubing, rails and pipes and steel fabrication, as well as for use in the railway, bridge building, steel fabrication and ship building industries.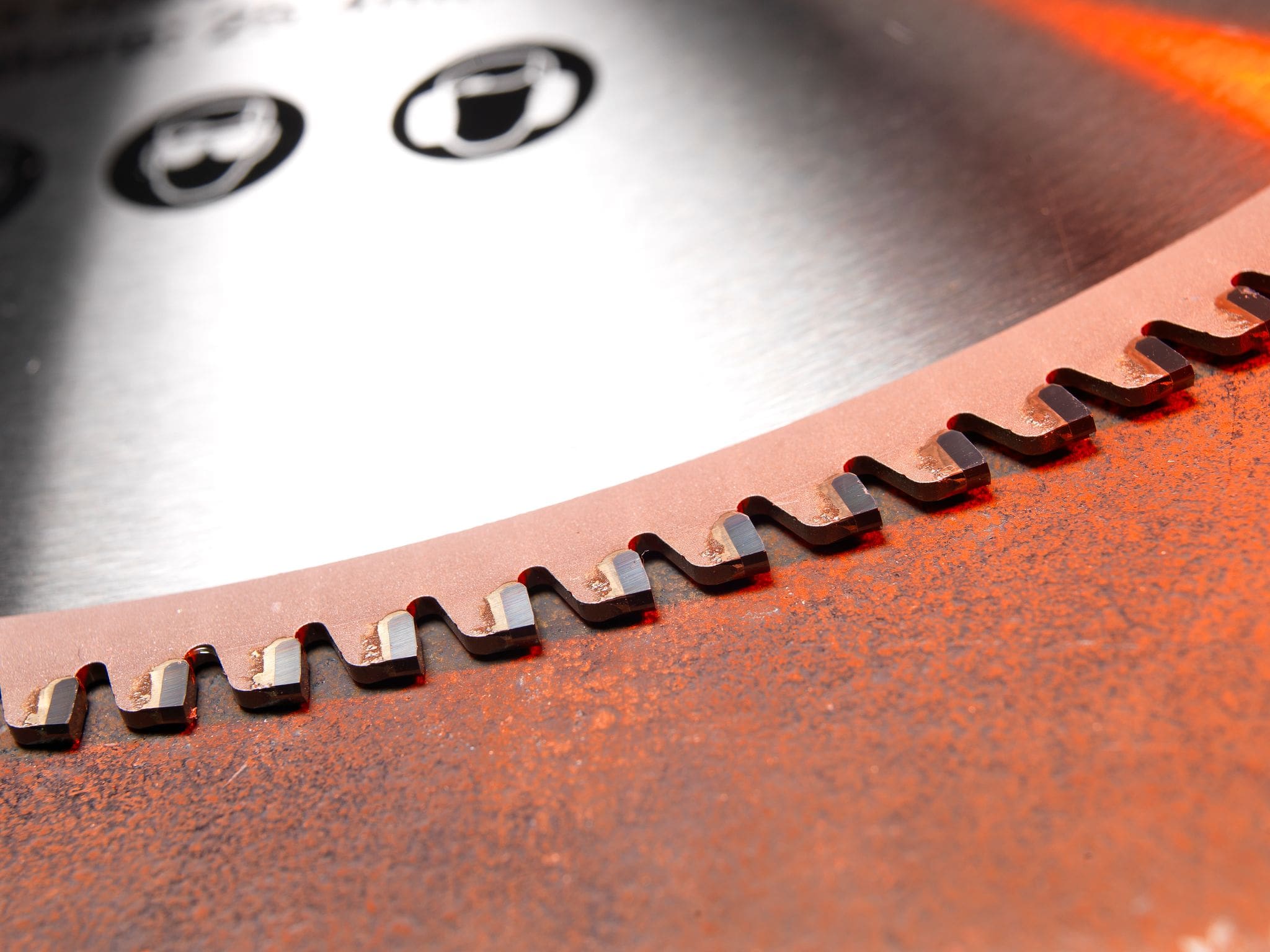 Key Reasons To Choose Cermet Tipped Carbide Blades Over Others:
Cermet tipped carbide blades can better grasp the angle, allowing precision cutting without the excess material. This reduces wastage, clean up time and ensures a more sustainable and effective way of utilising all materials at your disposal.

If you want a chop saw metal blade with minimal safety risks – which we're fairly certain you do – then cermet tipped carbide blades are the one for you – especially when used as part of our chop saws. We provide extensive safety guidance in our user manuals, and incorporate safety features that protect users at the highest level.
It's not hard to see why many customers have made the switch to cermet tipped carbide blades, and why many rave about our selection. Whether you're looking to cut aluminium, steel, stainless steel or more, we know we've got the right chop saw blade for you. Don't hesitate to speak to our superb team today about our options.
Chop Saw FAQs
What is a chop saw?
These are superb tools for cutting through steel, stainless steel and aluminium, among other materials used across varied industries. Comprising a round disc blade mounted to a hinged arm, and a stationary base, it supports you in material cutting. There are various types of cutting metal saws available – some are abrasive and create lots of spark; others are non abrasive, cutting through the metal easily and resulting in a virtually spark free, cool cut. We here at Rotabroach deal with the latter, due to their superior performance, efficiency and ease of use.
You can use a chop saw for cutting metal, as well as lumber and timber. Decking can also be cut, with the only limits being the blade force and what material dimensions your power tool will allow. We have a great range of blades from which you can alternate between, ensuring you always have what you need for your varied projects. Chop saws are also great for making multiple precise cuts, quickly and effectively. Our options include the Element 14 range, each with specifications sure to meet your needs.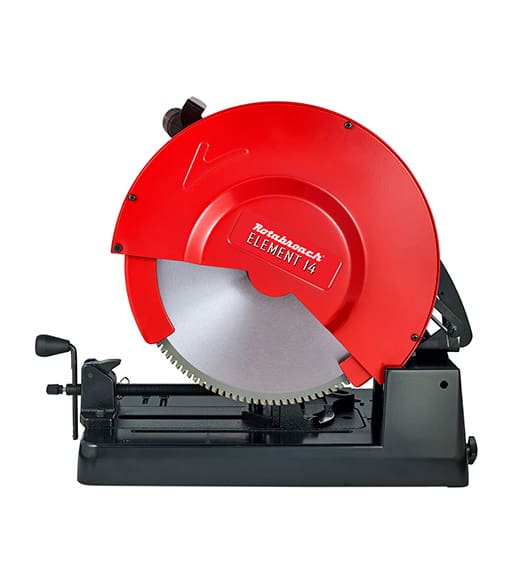 How does a chop saw work?
When it comes to using this power tool, the first steps are measuring your metal and preparing the machine for cutting. Proper preparation ensures accuracy, less material wastage and speeds up efficiency.
To measure your material correctly, you can:
Use a tape measure to effectively measure out the exact length of the cut you require. Mark the correct length with a pen or pencil and make a notch.

Then you need to mark the material for the cut.

Take a flat edge or ruler and mark the material where you made the notch.

You'll need to create a straight line that is perpendicular to the material. Some of our customers find it handy to use a protractor to ensure they are making an accurate line.

The material can then be clamped into position and there is a cutline on the base of the chop saw to help guide and ensure a smooth cool cut.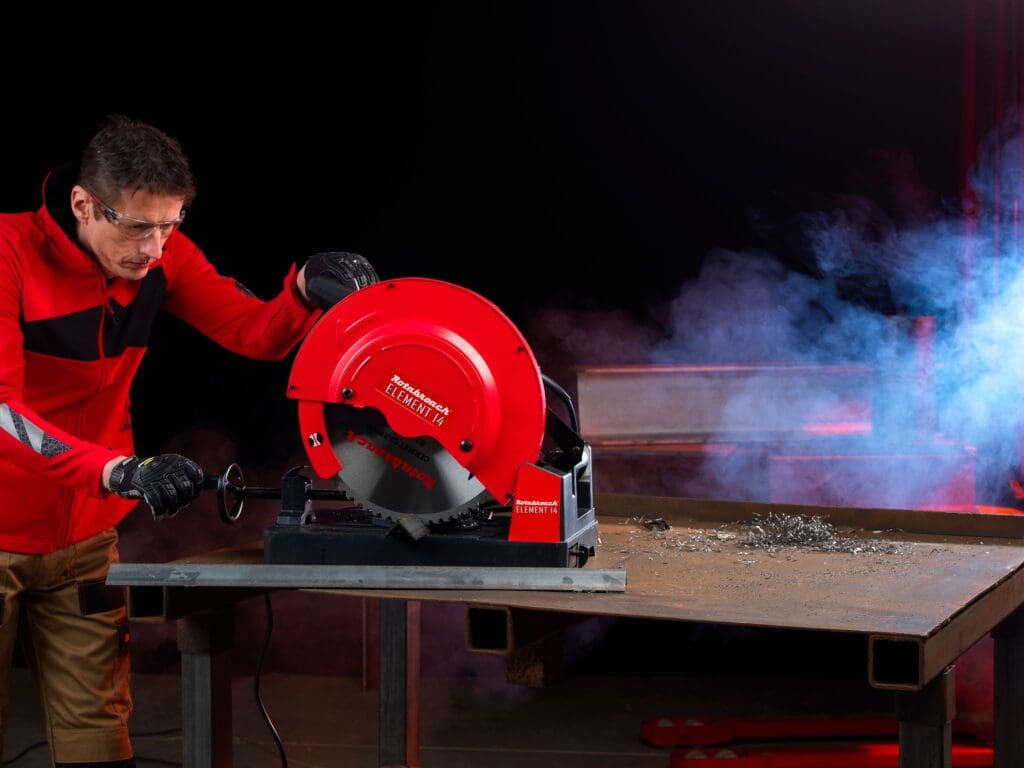 When you've ensured you're using the right chop saw blades and have followed the correct safety procedures, you can then start operating your power tool. It works as follows:
Switch the chop saw metal blade on, keeping safety in mind.

You'll want to create a seamless motion as you gently lower the blade. Do not force it through the material you're cutting, allowing the blade to do its work while you help guide it through the material.

When the cut has been done, turn the saw off and pull the chop saw metal blade back to the upright position, releasing your material from the saw. 
Towards the end of your chop saw blades' lifespan, you may see signs of a rough cut. We recommend replacing the blades and we have fantastic options from which you can choose.
What is the difference between a miter saw and a chop saw?
Whereas a chop saw has a clamping system that helps secure materials for cutting and aids accuracy no end, miter saws incorporate a back fence to hold the material steady when cutting, utilising a circular saw blade with an exposed bottom cutting edge that spins away from the user, enhancing safety and providing protection. 
Chop saws make straight cuts and are designed to cut metal, whereas miter saws can bevel more and are used with wood and lumber. Blade sizes for chop saws tend to go up to 15'' in diameter, whereas miter saws reach up to 12''. 
What you require will depend on your material, project and time scale. We're all for providing an honest recommendation here at Rotabroach, and if – after a discussion of your requirements, we don't think our power tools are quite right for you, we'll be open and transparent about that. Customer service is very important to us, as is sharing our extensive knowledge. We do have a great range of other machines that may be suitable, such as mag drills, specialist drills and annular cutters, so be sure to check those out too.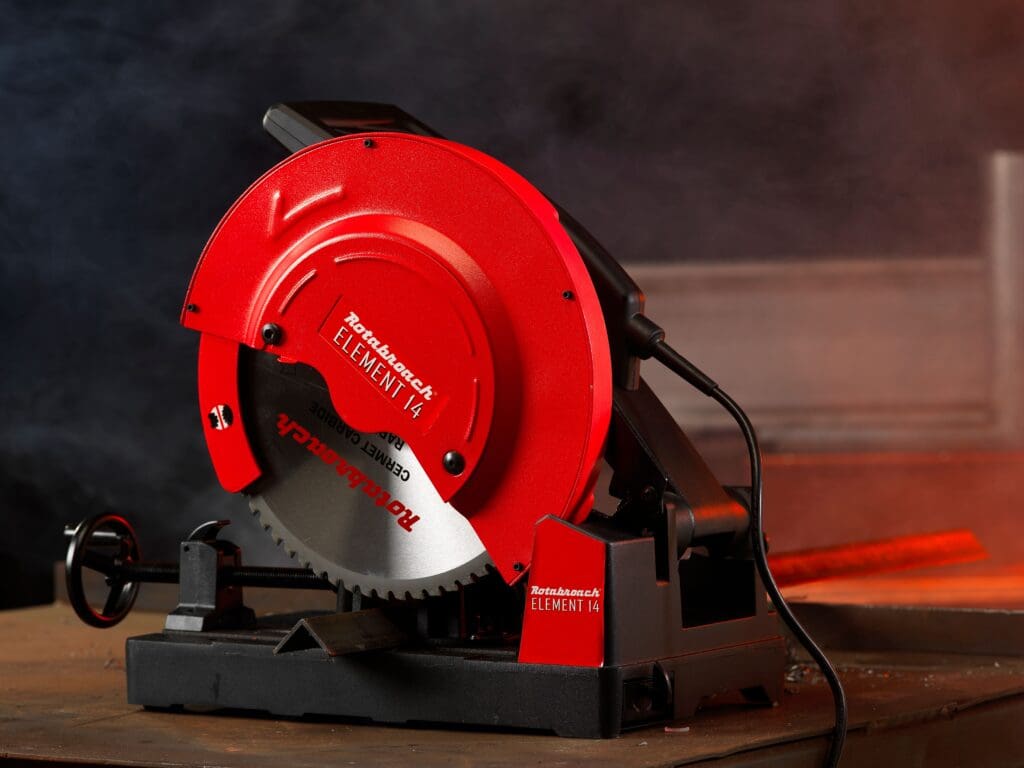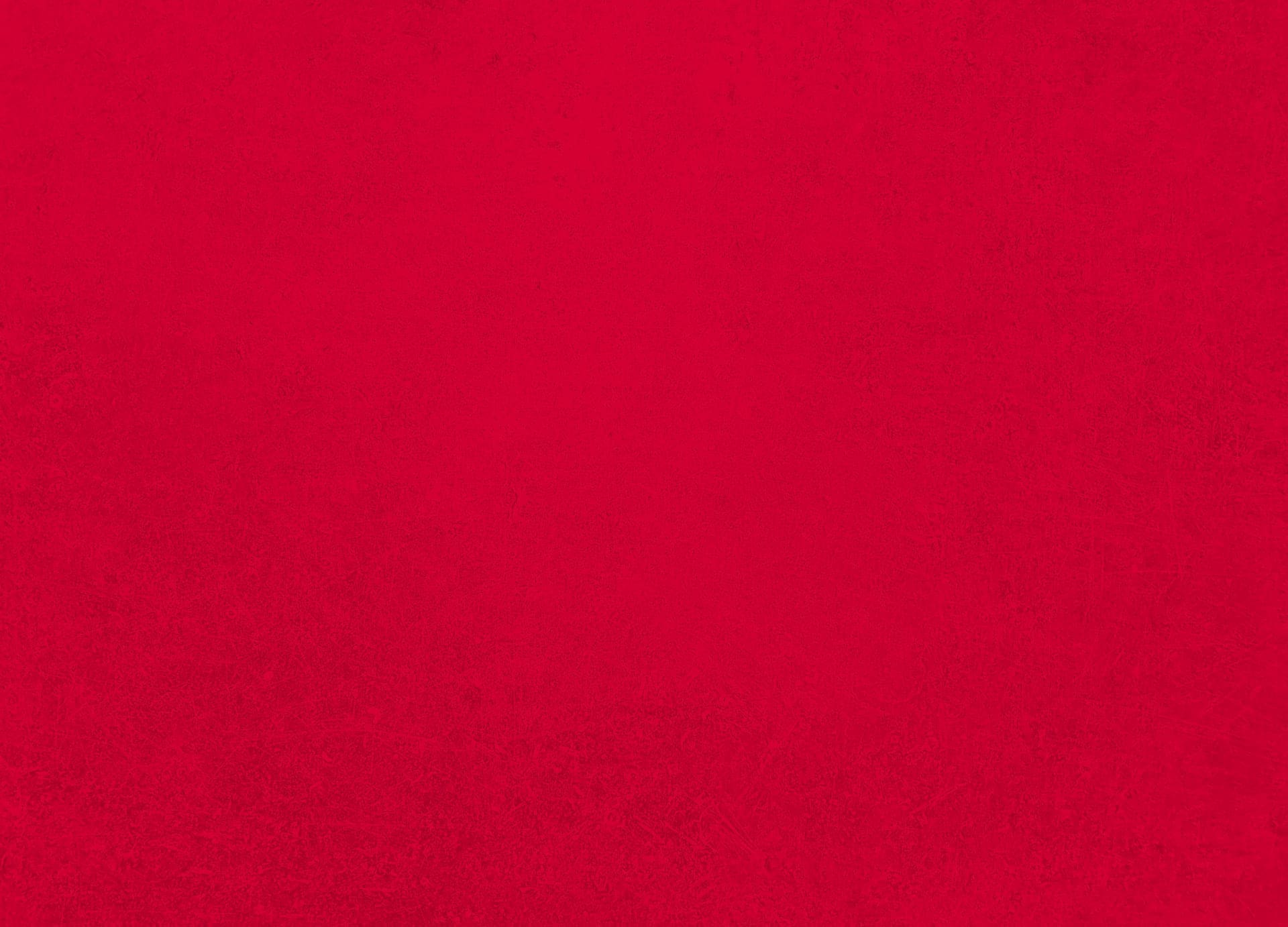 What chop saw safety instructions should I follow?
There are various safety instructions that we recommend here at Rotabroach when it comes to using your chop saw safely. What follows is a selection of them, and we recommend reading the designated chop manual that accompanies your purchase for the full list of safety instructions:
Electrical safety: Your power tool has been designed and fitted with the right moulded plug and mains lead for proper usage. If the power cord gets damaged, it must be immediately replaced by an accepted cord or assembly through your manufacturer.

As with all electrical units, this tool should not be used outside during wet weather conditions, or used in damp areas. Do not place the power tool on damp surfaces either, and use a clean and dry workspace.

When it comes to workspace safety – ensure that the work area is clean, well-lit and free of flammable gases, liquids and dust.

Keep all others away while operating the power tool, as distractions may prove dangerous, resulting in loss of control and severe injury.

For your safety, avoid contact with earthed or grounded surfaces, including, but not limited to: radiators, pipes and refrigerators, as there is a risk of electric shock if you use your chop saw should your body become earthed or grounded.

Use personal protective equipment when using your power tool.

Wearing eye protection, dust masks, non-skid safety shoes, hard hats and hearing protection will greatly reduce the likelihood of personal injuries.
What chop saw maintenance procedures should I follow?
When it comes to maintenance, please ensure that the tool is switched off and disconnected from the mains supply. We recommend regularly checking the safety features and guards, and only using the chop saw if all features – including safety features – are fully operational. 
Please note that all motor bearings in our cutting metal saws are lubricated for life, meaning no further lubrication is required. 
When it comes to cleaning, use a clean and lightly damp cloth to clean the plastic parts of the machine. Do not use solvents or similar products as these will damage the machine and render it unsafe for use. Please don't try to clean the chop saw by placing cleaning tools through openings in the machine's casings. The air vents should be cleaned using compressed dry air.
If you notice sparking, have the chop saw checked out and serviced by a qualified technician – who may, for example, replace the carbon brushes that have become dirty, or worn out.
When it comes to the chip collection tray, this should be emptied at regular intervals. We here at Rotabroach recommend you empty the chip tray when it gets to around 60% full. In terms of checking the chip tray:
Wear a dust mask for safety purposes.

Turn the locking lever to the horizontal position and open the tray from the machine to examine its contents.

Empty the tray's contents into a suitable recycling bin.

Replace the chip collection tray and return the locking lever to the vertical position to secure the tray within the chop saw's base.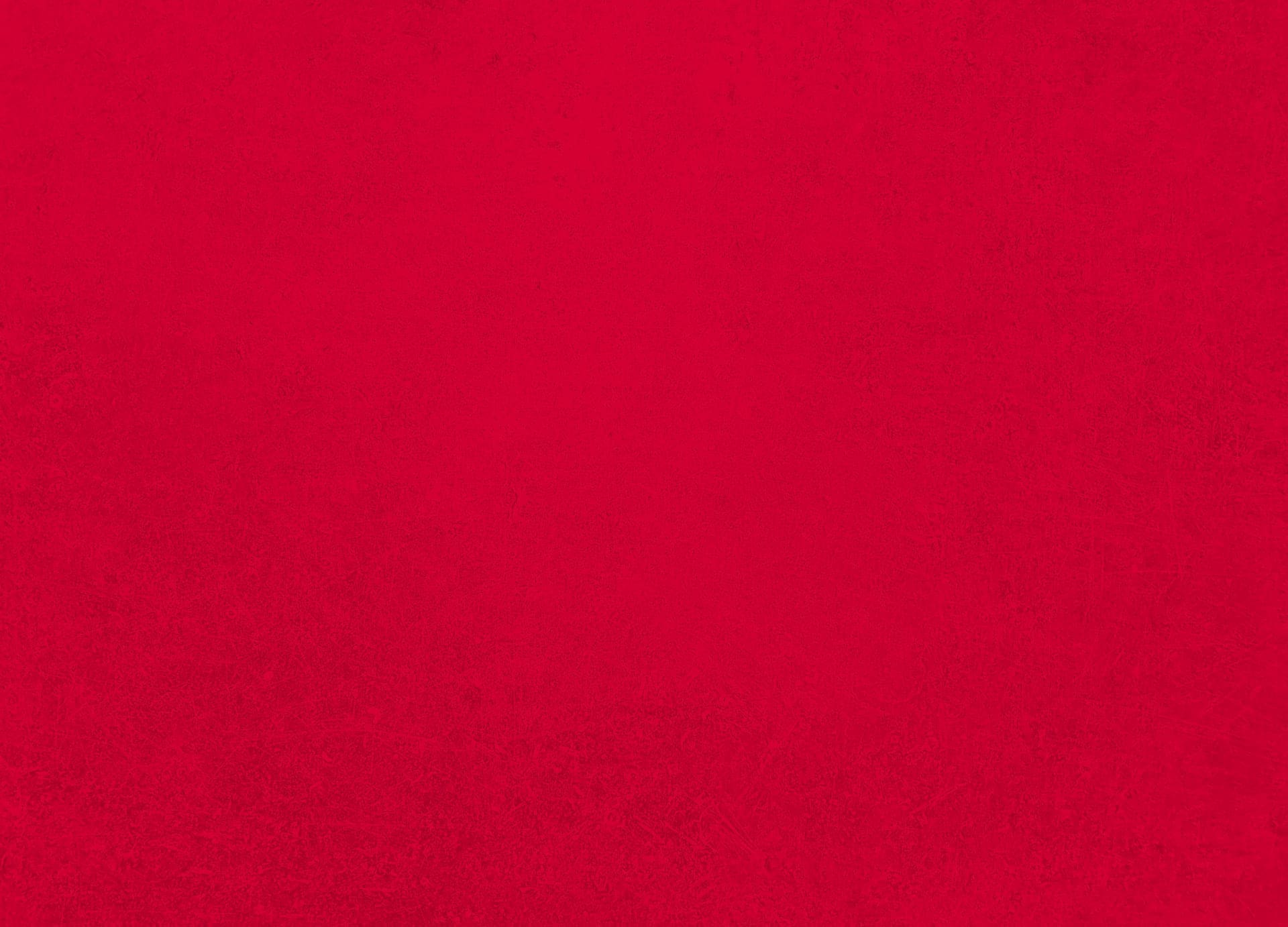 DOWNLOAD OUR BROCHURE
We've been developing our products for over forty years, supplying trade professionals with equipment that's tough enough to keep up with industry demands, giving relentless drilling ability that doesn't quit. At Rotabroach, we don't just innovate solutions for sectors, we innovate them – giving you tough, reliable tools that stand the test of time. 
If you're looking to power your next project, find out more about our complete range of products, applications and accessories, by downloading our brochure here.