Element Range
Element 100
Powerful 2000w motor with a four-speed mechanical gearbox.

Rotabroach's largest machine (733mm), the Element 100 is the ultimate heavy-duty drilling solution.

Suitable for drilling up to 100mm diameter by 100mm depth.

CutSmart Technology – designed to protect your motor and cutter, prolonging tool life.

Quick release interchangeable handle – allowing you to operate the mag drill from either side and improving accessibility.

Internal cabling reduces the risk of damage and downtime for your magdrill.

Internal cooling – keeping your mag drill cool and allowing you to drill for longer.

Features a swivel base.

Twist drill, threading and countersinking capabilities.

Dual motor protection, minimising wear and downtime of this magdrill.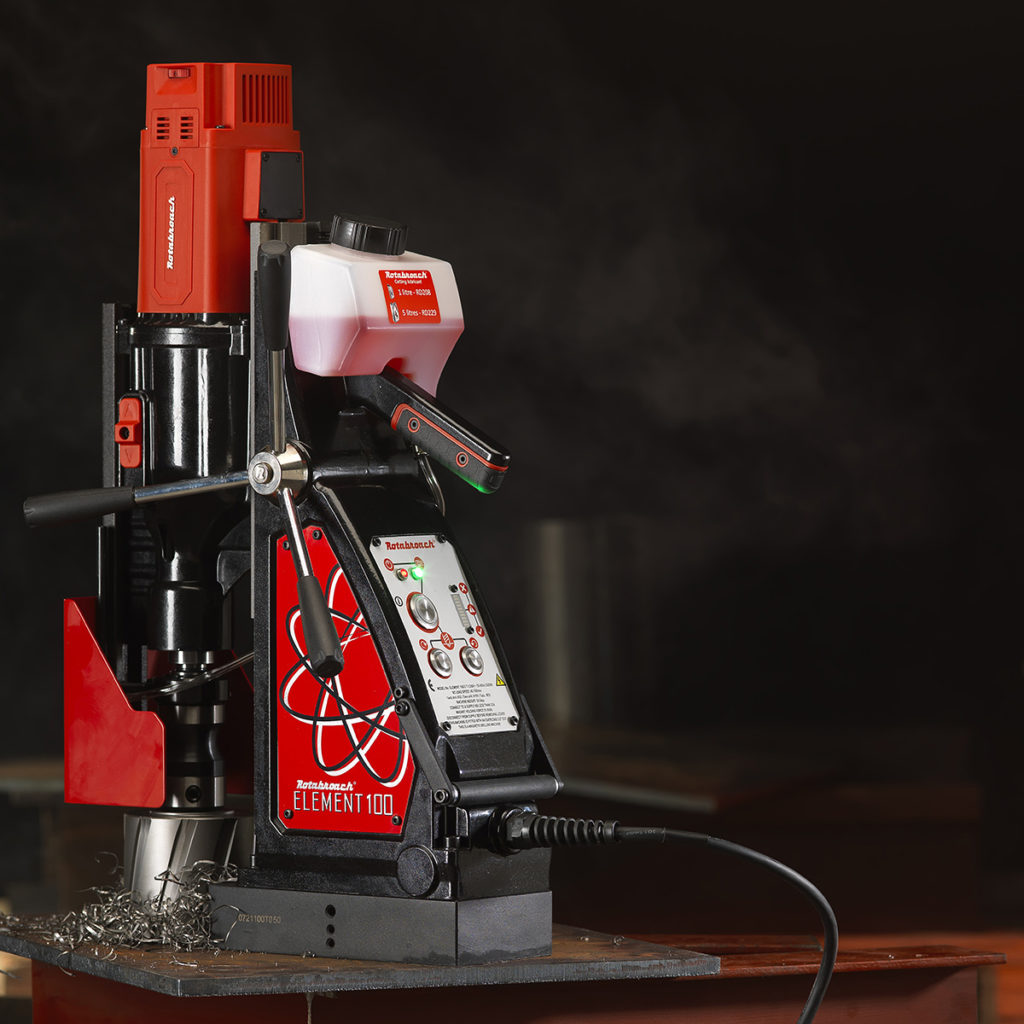 The Element 100 Mag Drill
As Rotabroach's largest machine, the Element 100 is ready and waiting to take on the most demanding projects available. Using its powerful 2000W motor (featuring a two-speed gearbox), this drill has a 100mm diameter and 100mm depth drilling capacity, the largest in the Element range. With its use of Rotabroach's innovative CutSmart technology, as well as a dual motor protection system and internal cable design, the Element 100 represents the Rotabroach commitment to safety, quality and performance.
Capable of countersinking up to 40mm and featuring a 16mm drill chuck for twist drills, this versatile machine can be supplied as a swivel or non-swivel base and features forward/reverse functionality for tapping. The Element 100 is the ultimate solution for larger-size drilling, bringing the renowned Element range to even bigger projects.
CutSmart – Prolonging Power Tool Performance
Mag drills are powerful tools that can cut through materials at an impressive rate, but they also pose hazards if not used appropriately, or an unexpected fault occurs. Even the most experienced steel fabricator, track expert or ship builder can have accidents if their tools let them down, and that's why we wanted to create CutSmart – to ensure this never happens.
With CutSmart, you will always know if too much force is being applied to your steel, aluminium, copper, or other material, so that you can respond quickly, safely and effectively. Customer safety is of the utmost importance to us here at Rotabroach, and with CutSmart, your mag drills will help maintain your safety standards no end.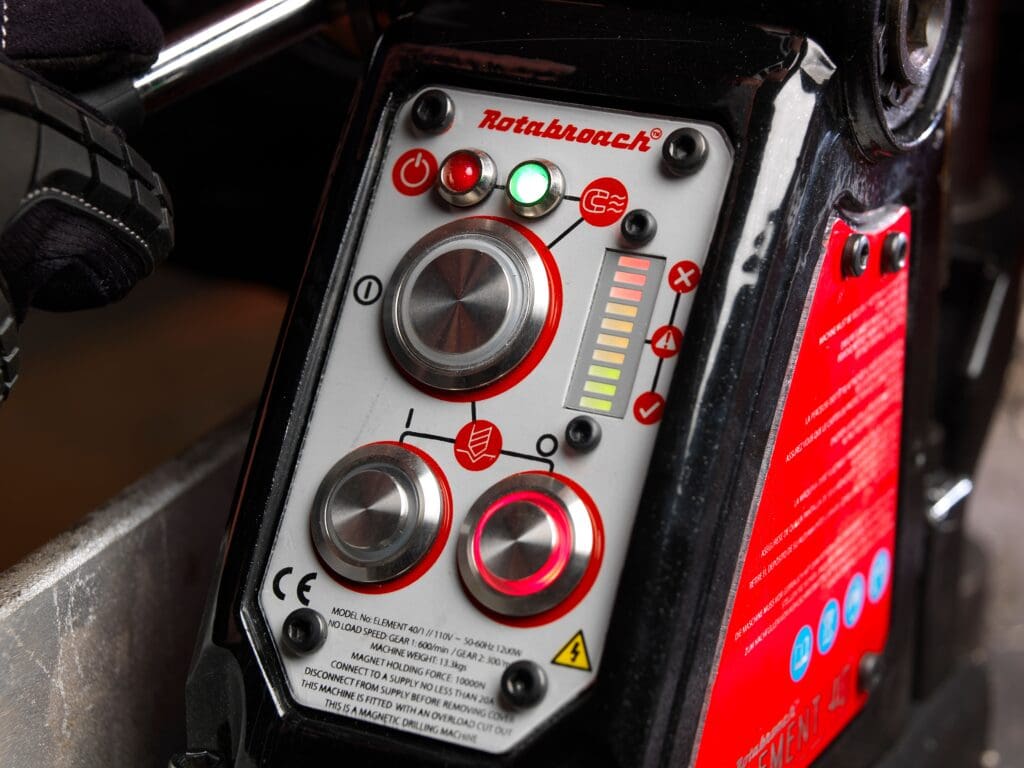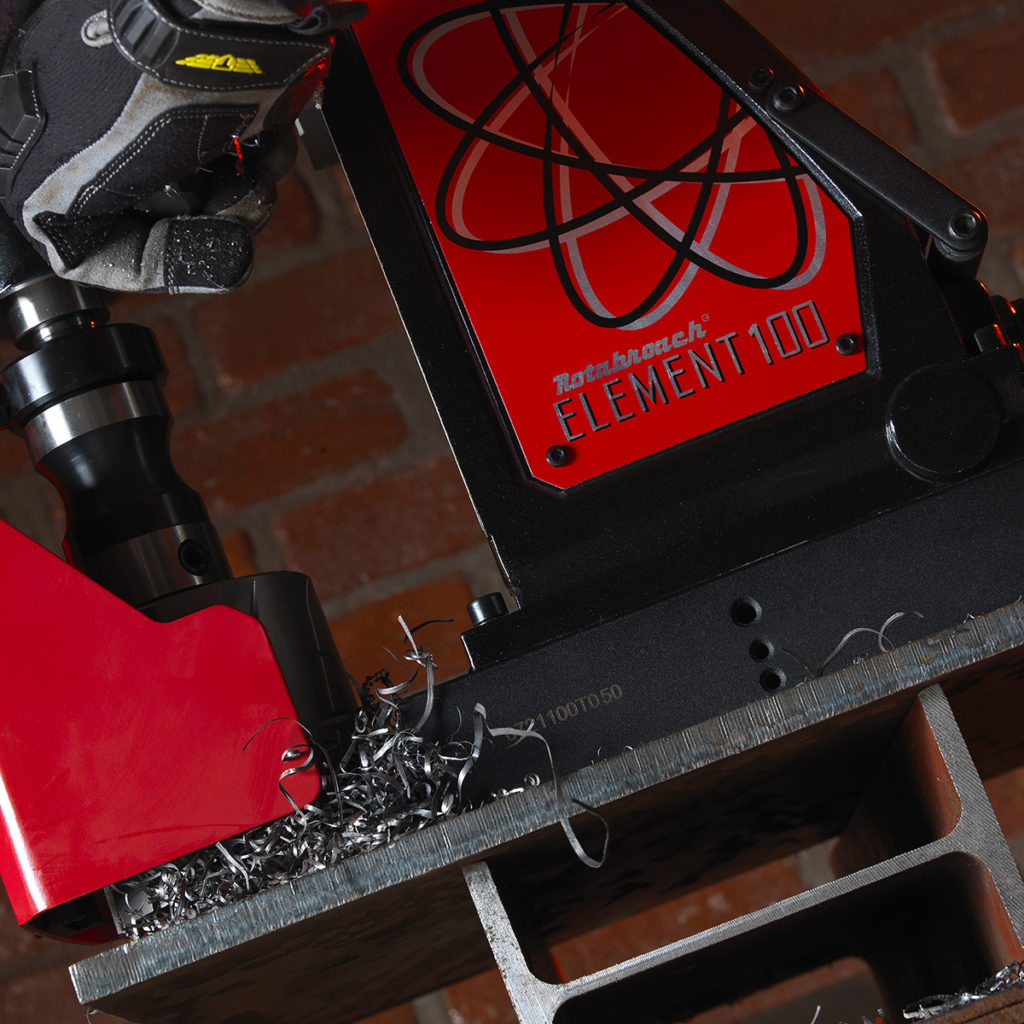 Key Features
Rotabroach's largest machine (733mm)
Suitable for drilling up to 100mm diameter by 100mm depth.
Forward and reverse functionality for tapping.
Supplied as either a swivel base or a non-swivel option.
Dual motor protection system to prolong the machine's life and prevent unwanted wear 16mm drill chuck that can be used for twist drills.
Powerful 2000w motor with a two speed mechanical gearbox.
Can be used to countersink up to 40mm*
CutSmart Technology – designed to protect your motor and cutter, prolonging tool life.
Quick release interchangeable handle – allowing you to operate the mag drill from either side and improving accessibility.
Internal cabling removed the risk of damage and downtime for your magdrill
SPECIFICATION
Model Number

Element 100/1 / Element 100/3

Motor Specification

110V 2000W / 230V 2000W

No load RPM

Gear 1: 45-129 RPM

Gear 2: 70-208 RPM

Gear 3: 150-434 RPM

Gear 4: 240-700 RPM

Max Hole Cutting Capacity

ø100 x 100mm Deep – 31.75 with MT Drill

Overall Dimension

Height: 560mm / Width: 230mm with Capstan / Length: 460mm with Guard

Machine Weight

24.8kg

Magnetic Adhesion

20,000N

Magnet Size

228mm x 114mm

Safety Features

Cutsmart™ Technology / Fixed Guard / Magnetic Detection