When you've got metal to cut, you need a chop saw blade that can get the job done smoothly and effectively. In this guide, we discuss how you know it's time to change your chop saw blades, and how to go about doing this safely and efficiently.
It's time to change your chop saw blade if:
The blade is cutting slower than usual, or binds mid-cut, making movement difficult.

The blade creates more tears or chipping than before.

The blade appears dull, and is causing inaccurate cuts.
As these factors pose safety risks to the user, and can cause hold ups with project deadlines, it's key that blades are changed as soon as possible, to ensure work is of the highest standards and you can get back to work as quickly as possible.
How To Change A Chop Saw Blade – Tricks & Safety Tips
When it comes to changing a chop saw blade, it's imperative you follow the instructions as laid out in the product manual for your particular model. What follows is how you would change an Element 14 chop saw blade – a popular metal saw across the industries we work with.
Step 1: Preparation. 
You firstly need to release the cutting head, which will automatically rise to the upper setting once it has been released from the locked down position. To release the cutting head from the locked down position, simply press down on the cutting handle. Then, pull out the head latching pin and lock in the outer position.
If releasing the cutting head proves difficult, we recommend:
Gently rocking the cutting head up and down.

Pulling the latching pin out and turning 1/4 of a turn to lock in the outer position. 
Safety guidance: We strongly recommend that when the chop saw is not in use that you ensure the cutting head is locked in its down position with the latching pin fully engaged in its socket.
Step 2: Removing a chop saw blade.
Safety guidance: Only use Rotabroach blades – or Rotabroach approved blades designed for the Element 14. It's likely that whichever chop saw you use, it will require similar safety guidance – as in, only use manufacturer-approved chop saw blades. You should also ensure that the optimum approved blade speed of the blade is fully compatible with the power tool.
Please only change or replace a chop saw blade when the machine is turned off AND disconnected from the power supply. It's advised that the user wears protective gloves when handling the blade too.
To remove a blade:
Check that the cutting head is in its upper position.

Loosen the fastener screw that is keeping the arbor guard in place and rotate the guard upwards to fully reveal the machine's arbor.

Engage the arbor lock by pressing the arbor lock button.

Use the provided hex key to loosen the arbor screw. Please note that the arbor screw has a right-hand thread. To use, simply turn clockwise to tighten and counterclockwise to loosen.

Remove the arbor screw, washer and outer blade flange and place this somewhere safe for future installations.

Retract the lower blade guard up into the upper blade guard by rotating it safely by hand.

Remove the chop saw blade, leaving the inner blade flange in its service position.
Step 3: Chop saw blade installation.
Check that all machine and blade components are free of any dirt, debris or swarf.

Install the blade onto the inner blade flange and arbor, making sure that the direction and rotation arrow on the blade matches the direction of arrow rotation found on the machine's upper blade guard.

Put back the outer blade flange, washer and arbor screw.

Lock the arbor in place by pressing the arbor lock button.

Tighten the arbor screw by using the 8mm hex key provided.

Return the arbor guard to its service position and tighten the crosshead screw to ensure it's secured.

Check that the arbor lock has been released by rotating the blade safely by hand.

Remove the hex key from the arbor screw and safely store it for future use.
Safety guidance: Once the blade has been installed, run the chop saw, without load, for a few minutes. Stand well away from the blade, because if the blade were to have an undetected fault – it could shatter during this trial run. That's why it's always best to test this, to protect you, the chop saw and the material to be cut.
It's key that all users of your chop saw follow these instructions to the letter, and operate within a safe working environment. For example, chop saw components should not be left in damp or wet areas, and power tools must match the outlet, and never be modified.Please read through all safety warnings and instructions too, as failure to do so may result in electric shock, serious injury and even fire.
New Chop Saw Blades That Power The Way You Work With Metal
Our Rotabroach cermet tipped carbide blades are ideal for materials as varied as steel, titanium, cobalt and aluminium, not to mention iron, wood and nickel. Great for cutting through sections, metal tubing, rails and pipes, they are also used in steel fabrication. What makes them different from other chop saw blades out there is that they will last up to 20 times longer than traditional abrasive discs, while also providing a 40% better lifespan too. Cermet tipped carbide blades can better grasp the angle too, giving precision cutting and therefore reducing any wastage material. With minimal spark and burr production too, you really can't go wrong.
Our Chop Saw Blades Include:
14'' Steel Saw Blade:
Diameter: 14″ (355mm)

Teeth: 66T

Bore: 25.4mm (1″)

Application: Steel

Max Speed: 1750 rpm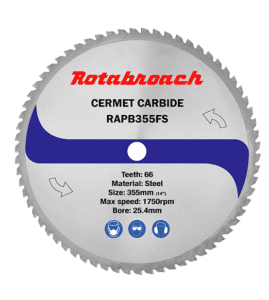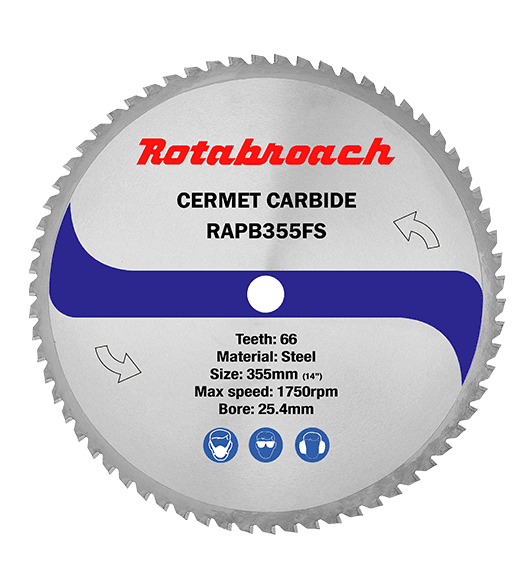 14'' Stainless Steel Saw Blade:
Diameter: 14″ (355mm)

Teeth: 122T

Bore: 25.4mm (1″)

Application: Stainless Steel

Max Speed: 1750 rpm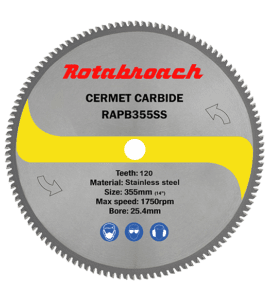 14'' Aluminium Saw Blade:
Diameter: 14″ (355mm)

Teeth: 80T

Bore: 25.4mm (1″)

Application: Aluminium

Max Speed: 1750 rpm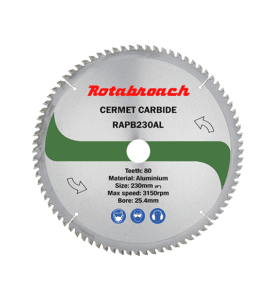 14'' Multi-Purpose Saw Blade:
Diameter: 14″ (355mm)

Teeth: 36T

Bore: 25.4mm (1″)

Application: Multi-Purpose

Max Speed: 2500 rpm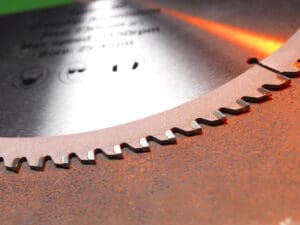 To check out our full range of chop saw blades, please click here.
Some additional guidance for prolonging the lifespan of your chop saw blade includes:
Cleaning the blade 2-3 times per year.

Safe handling and storage are key to maintenance, so ensure all users wear protective gloves when handling the chop saw blade, and keep all blades locked up in a cool, dry storage space. 
Changing a chop saw blade can seem a lengthy process, but a process that must be followed for safe and secure operation. For more guidance and information on how to change, replace or install a chop saw blade, please refer to your user manual and don't hesitate to get in touch for additional support. Our customer service is unmatched and we're always happy to help. We support clients from industries as varied as ship building, bridge building, agriculture and transport and we'll be on hand to help you too.