The #POWERToCutMetal In: Steel Fabrication
What challenges do steel fabricators face?
Steel fabrication is a vital aspect of industries across the world, supporting construction, bridge building, engineering and manufacturing, amongst other metal-based projects. Simply put, steel fabrication is an essential part of modern life.
Fabrication is tough; hard metals, large workloads and tight deadlines are commonplace in the industry. To run a successful fabrication business, you'll need tools that get the job done, consistently, reliably and quickly.
As #theoriginalname in metal cutting solutions, we've established a partnership with this sector stretching back decades, producing world-class equipment for businesses across the world.
In this article, we'll take a look at some of the key tools we provide for steel fabricators, highlighting our latest machines and market-leading product range.
What do steel fabrication businesses need?
Steel fabrication services rely on powerful equipment, suitable for cutting tough metals quickly, without compromising on safety. Commonly used tools in the industry are: magnetic base drills, annular cutters (otherwise known as mag drill bits) and chop saws. These tools supply the performance needed to complete both simple and complex projects in large quantities.
As well as this, these businesses rely on efficiency: they need tools which perform consistently and provide fantastic value, equipment which can handle the tough work that takes place in a fabrication shop.
Where do our tools fit in?
We've produced a range of tools designed to support this key component of British manufacturing, designing specialist machines for drilling holes through a wide range of different metals, supported by tough, hard-wearing cutters and a range of drill accessories.
In short, we give fabricators the tools they need to get the job done.
With 40 years of performance behind us, we're the key name in our industry, a reputation we've consistently built upon by introducing new, innovative technologies to the market.
Let's take a look at some of our equipment, used in fab shops across the world:
The Element 50 Auto Mag Drill
This magnetic drill features similar performance to our popular Element 50, however it incorporates unique fully-automatic technology to provide the next level of efficiency.
The Element 50 Auto can be set up, switched on, and begin drilling holes in tough metals on its own. However, the key feature here is: when the hole has been drilled, the machine will stop, retract and shut down autonomously.
With a powerful motor (1500W) and relatively compact design (514mm), it's easy to see why this drill has become popular across a wide range of industries worldwide, particularly in steel fabrication.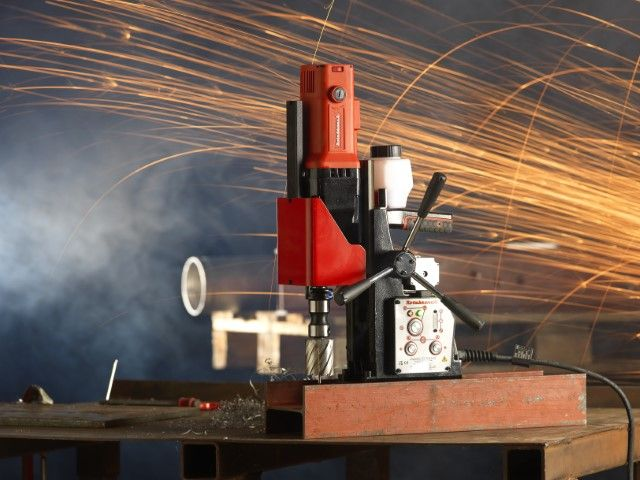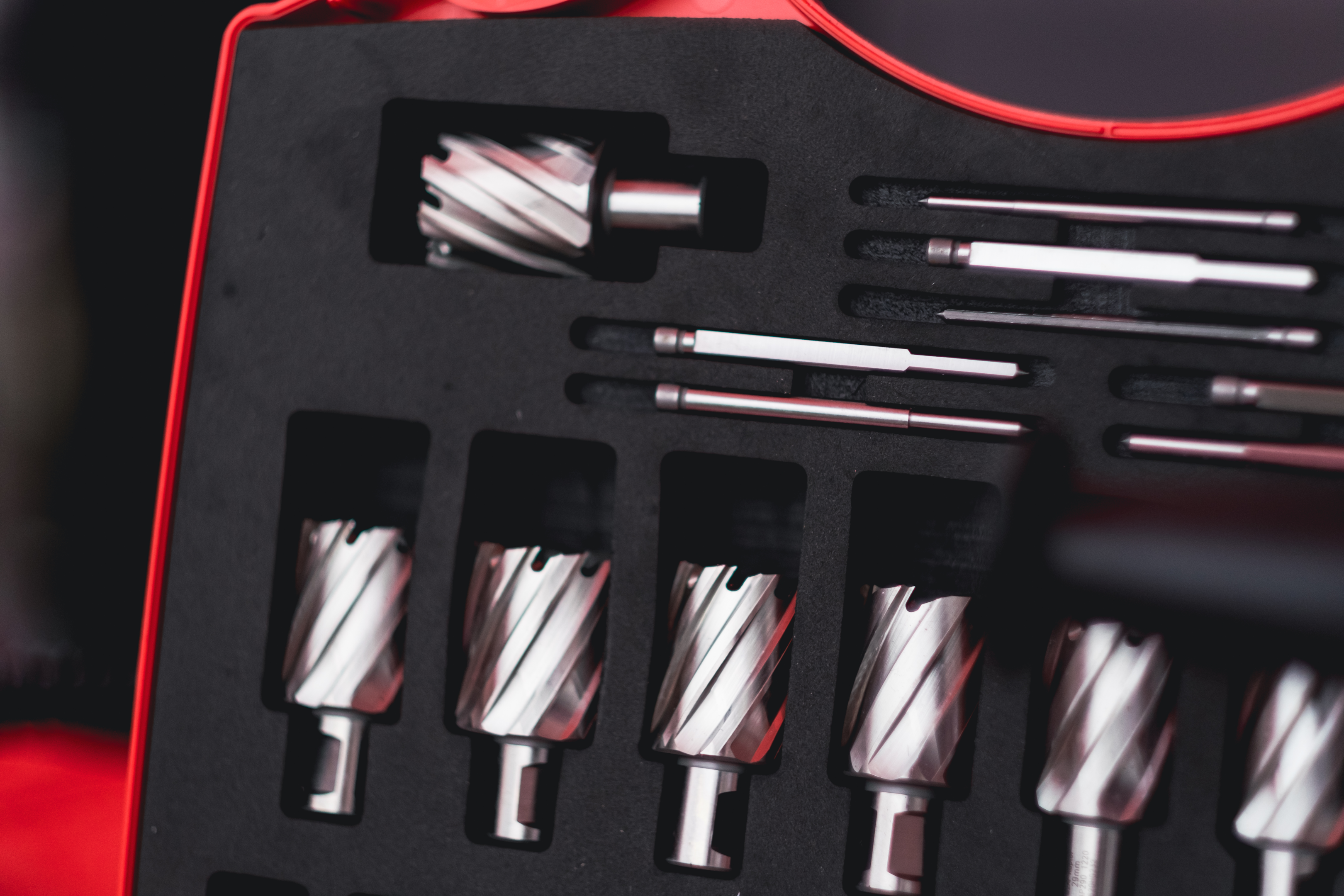 Our Annular Cutters
As great as our world-leading range of mag drills are, they won't provide the signature Rotabroach performance without the right cutters. Our range of annular cutters allows your mag drill to cut through tough metals, drilling through steel, alloys and other materials with ease. Their design, cutting only the exterior of the hole and ejecting the 'slug', makes them a considerably more efficient choice than traditional twist drills.
Our range has three main categories: M2AL, TCT and their specialist rail variants. These cutters span various tensile steels, aluminium, copper, alloys and other materials. In this article, we'll focus on M2AL and TCT, in relation to steel fabrication. For more information on choosing the right annular cutter, click here.
Let's take a look at the range:
M2AL Annular Cutters
Designed for steel up to <900N/mm2 in tensile strength, these cutters are ideal for mild and structural steel fabrication. Manufactured from heat-treated M2AL, they provide high performance and maximum hardness, along with an enhanced tool life. With a unique tooth geometry, these cutters are a fantastic option for repeatedly drilling holes in lower tensile steels.
Our M2AL range is the optimal choice for tough cutters which provide excellent value for money. Available from 11mm – 65mmø in diameter and both 25mm and 50mm depths of cut, this range is a brilliant choice for general steel fabrication.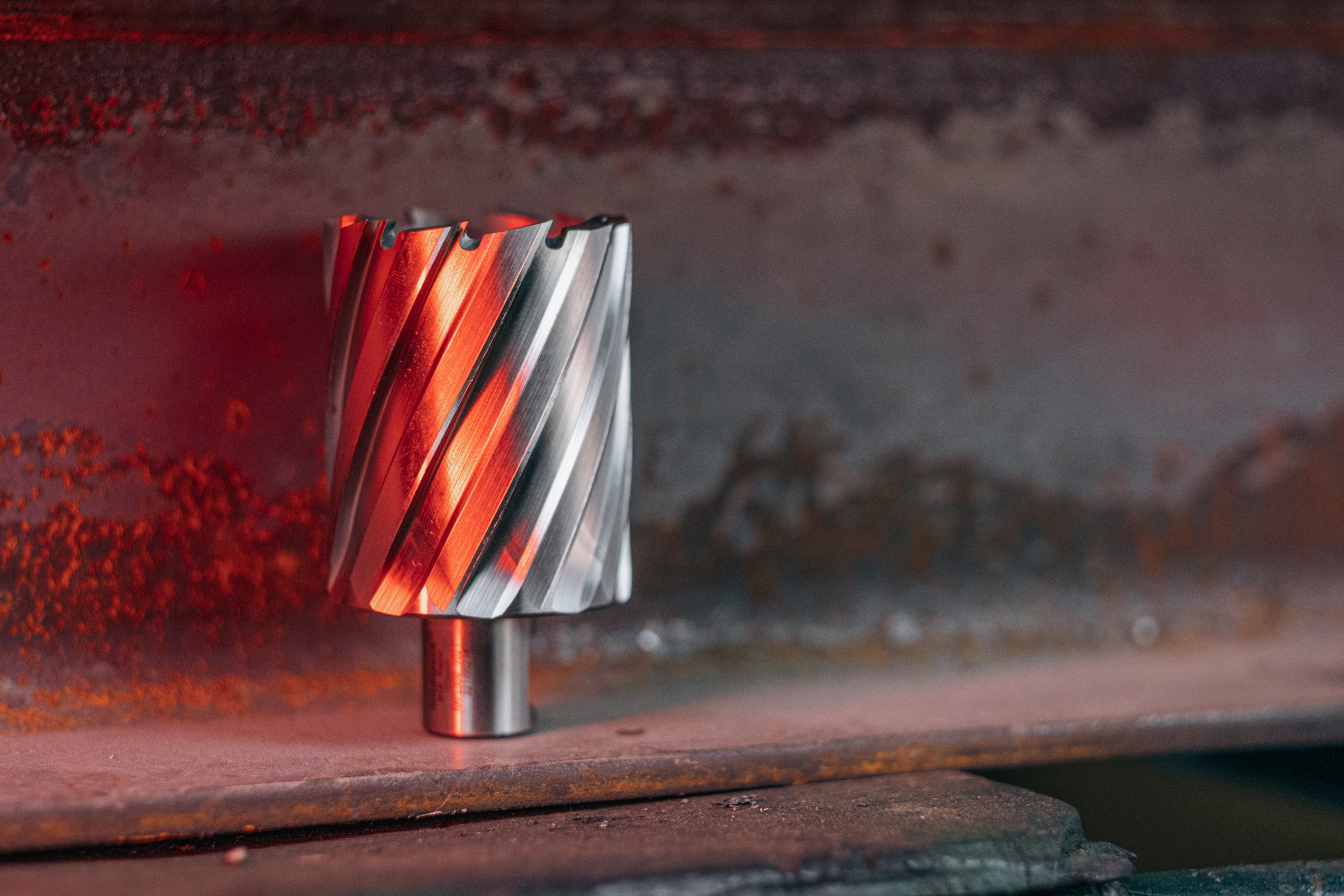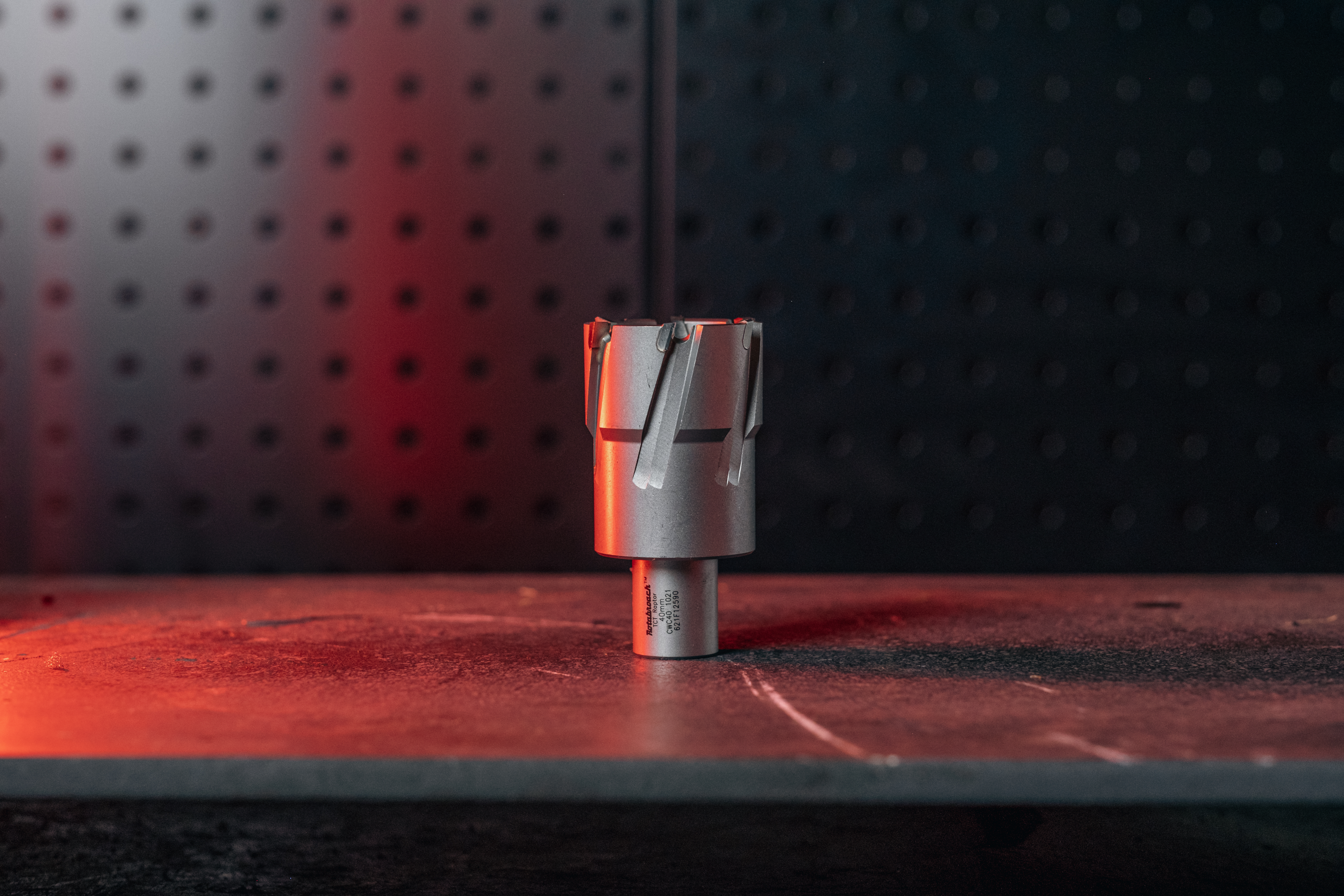 TCT Annular Cutters
Manufactured with Tungsten Carbide Tips (TCT), this range of cutters provide enhanced performance on even the toughest metals. Ideal for steel up to <1400N/mm2, our TCT annular cutters can take on construction steel, stainless steel, Hardox and Inconel. With specialist three-tooth geometry, these cutters will provide a smooth cut, vibration free cut.
Available in diameters of 12mm – 18mmø (other sizes available on request) and with depths of cut spanning 35mm, 50mm, 75mm & 100mm, our TCT annular cutter range is ideal for a wide range of jobs.
The Element 14 Chop Saw
Our flagship chop saw provides reliable, consistent cutting performance on a wide range of different metals. With a no load RPM of 1300 and 2200W motor, the Element 14 has a:
Maximum Hole Cutting Capacity of 120mm x 120mm
Cutting Capacity (Rectangular Section) of 95mm x 185mm
Cutting Capacity (Pipe) of 130mm
Ideal for making quick, accurate cuts in various different metals, the Element 14 is popular in fabrication businesses across the world.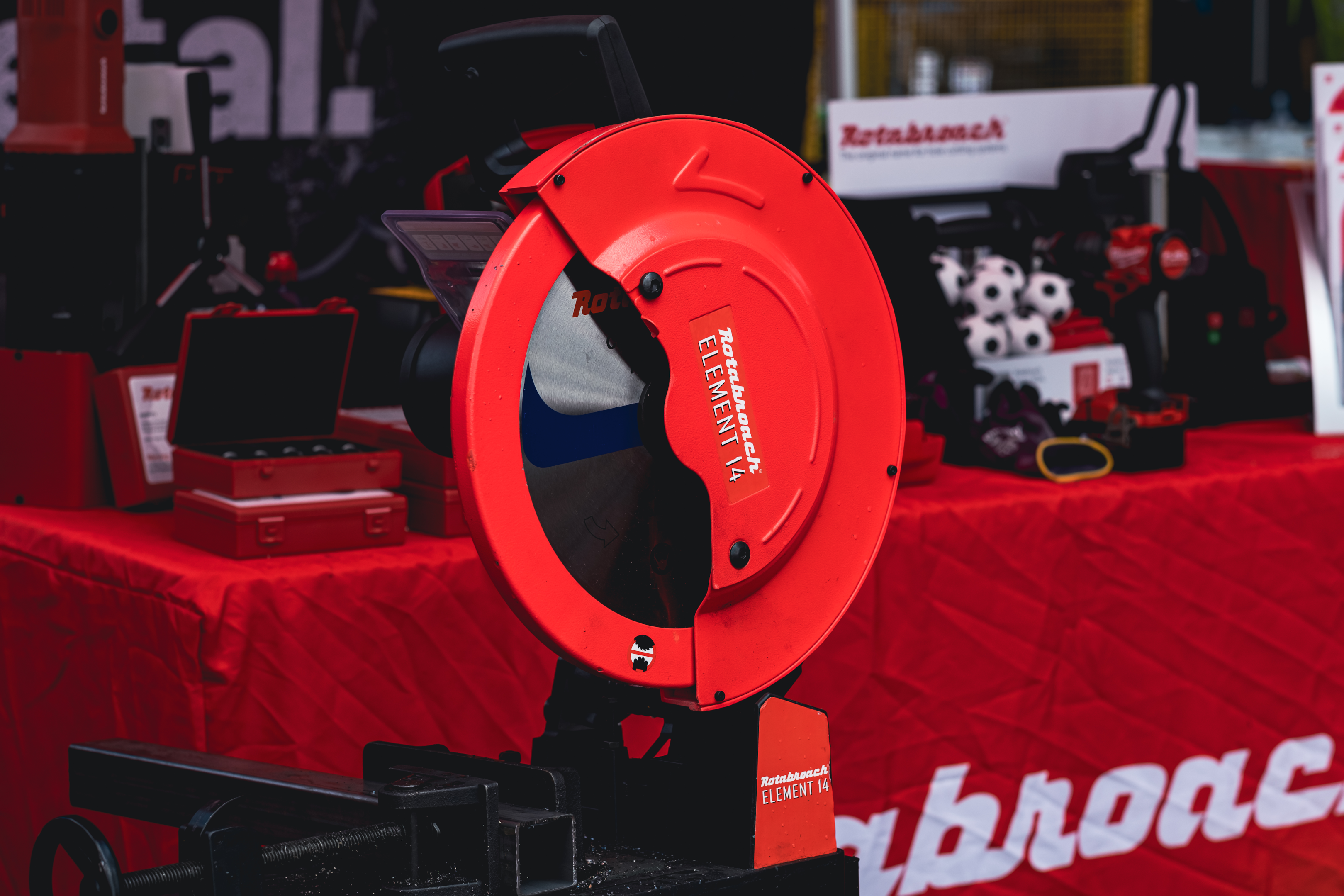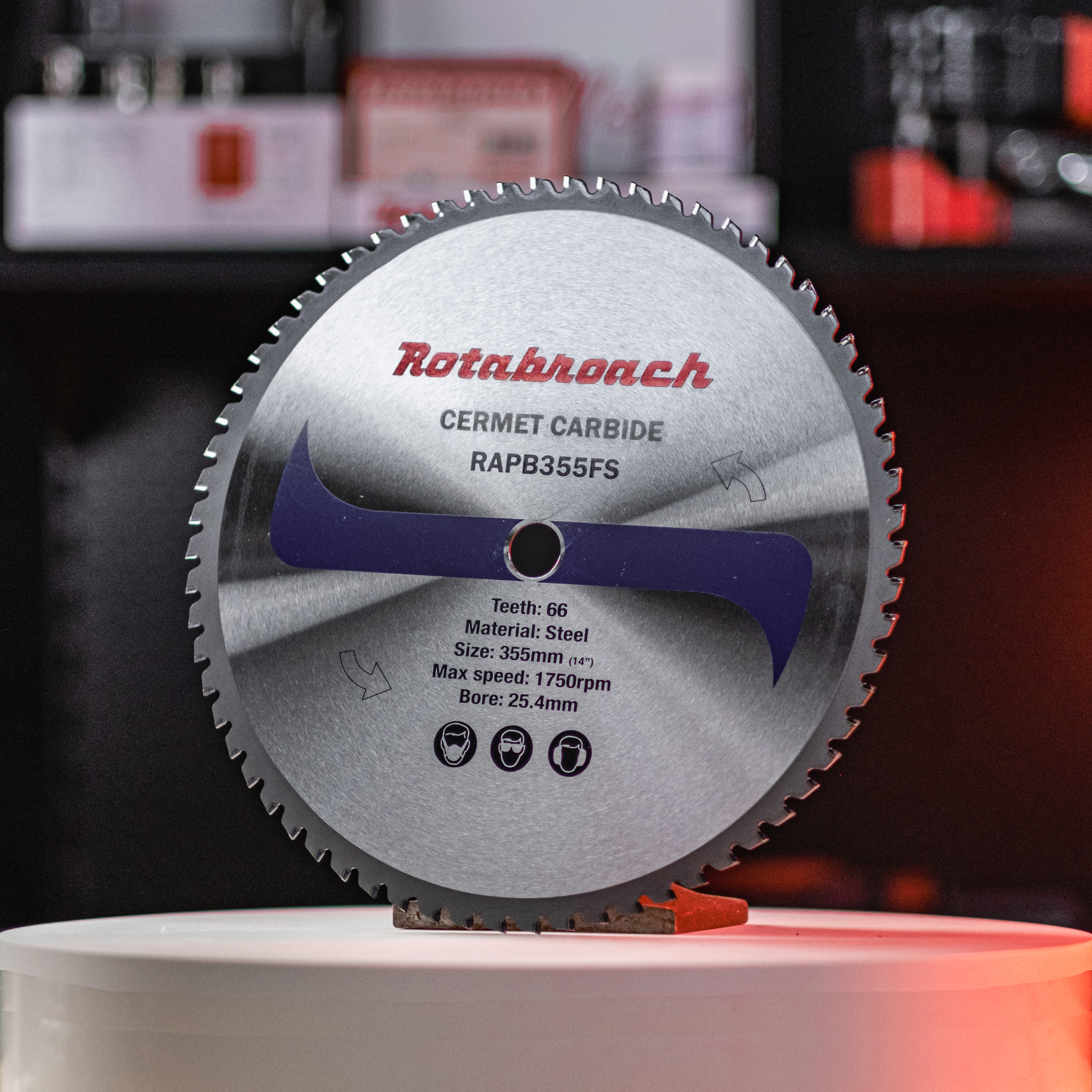 Rotabroach Sawblades
Our cermet-tipped blades are a fantastic option for making clean, cool cuts in metal. Their high quality material and durable triple-chip design allows for minimal vibration and sparks during the cut. These blades:
Last up to 20 times longer than conventional abrasive discs
Provide up to 40% better life than TCT blades
This impressive durability, combined with the power of the Element 14, makes our sawblades the premier option for quick, clean cuts in various metal stock – ideal for steel fabrication.
Our sawblades are available as Steel, Aluminium, Stainless Steel and Multi-Purpose blades.
Overall, this article has looked at some of our most popular products used in the steel fabrication industry: the Element 50 Auto mag drill, our annular cutters, the Element 14 and our sawblade range. Steel Fabrication continues to be a critical industry for both Rotabroach and the world. To find out more about our product range, contact our team today.